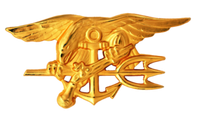 The United States Navy Sea, Air and Land Forces, commonly known as the US Navy SEALs, are the elite Special Operations Forces of the U.S. Navy, employed in unconventional warfare, foreign internal defense, direct action, counter-terrorism, and special reconnaissance operations.
History
The US Navy Underwater Demolition Teams (UDT) were a precursor to the current United States Navy SEALs. Under-Water Demolition Teams began training in June 1943, one year before the invasion of Normandy. In World War II, UDT saw action at Normandy and at various locations in the South Pacific. The UDT refined and developed their commando tactics during the Korean War, with their efforts initially focused on demolitions and mine disposal.
President John F. Kennedy, aware of the situations in Southeast Asia, recognized the need for unconventional warfare and utilized Special Operations as a measure against guerrilla activity. In a speech to Congress in May 1961, Kennedy shared his deep respect of the Green Berets. He announced the government's plan to put a man on the moon, and, in the same speech, allocated over one hundred million dollars toward the strengthening of the Special Forces in order to expand the strength of the American conventional forces.
Realizing the administration's favor of the Army's Green Berets, the Navy needed to determine its role within the Special Forces arena. In March of 1961, the Chief of Naval Operations recommended the establishment of guerrilla and counter-guerrilla units. These units would be able to operate from sea, air or land. This was the beginning the official Navy SEALs. Many SEAL members came from the Navy's UDT units, who had already gained experience in commando warfare in Korea; however, the UDTs were still necessary to the Navy's amphibious force.
The first two teams were on opposite coasts: Team Two in Little Creek, Virginia and Team ONE in Coronado, California. The men of the newly formed SEAL Teams were educated in such unconventional areas as hand-to-hand combat, high altitude parachuting, safecracking, demolitions and languages. Among the varied tools and weapons required by the teams was the AR-15 assault rifle, a new design that evolved into today's M16. The SEALs attended UDT Replacement training and they spent some time cutting their teeth at a UDT Team. Upon making it to a SEAL Team, they would undergo a three-month SEAL Basic Indoctrination (SBI) training class at Camp Kerry in the Cuyamaca Mountains. After SBI training class, they would enter a platoon and train in platoon tactics (especially for the conflict in Vietnam).
The Pacific Command recognized Vietnam as a potential hot spot for conventional forces. In the beginning of 1962, the UDT started hydrographic surveys and Military Assistance Command Vietnam (MACV) was formed. In March of 1962, SEALs were deployed to Vietnam for the purpose of training South Vietnamese commandos in the same methods they were trained themselves.
The Central Intelligence Agency began SEAL covert operations in early 1963. At the outset of the war, operations consisted of ambushing supply movements and locating and capturing North Vietnamese officers. Due to poor intelligence information, these operations were not very successful. When the SEALs were given the resources to develop their own intelligence, the information became much more timely and reliable. The SEALs and Special Operations in general started showing an immense success rate, earning their members a great number of citations.
The SEALs were initially deployed in and around Da Nang, training the South in combat diving, demolitions and guerrilla/anti-guerrilla tactics. As the war continued, the SEALs found themselves positioned in the Rung Sat Special Zone where they were to disrupt the enemy supply and troop movements, and into the Mekong Delta to fulfill riverine (fighting on the inland waterways) operations. The brown water of the Delta provided the foundation for the development of SEAL riverine operations. The SEALs adapted quickly and with deadly results. The braces, inlets and estuaries intermingled and left a broad area for both the North and South to operate. The SEALs and Brown Water Navy Boat Crews made it their job to win this part of the war, impeding as much as possible the movement of troops and supplies coming from the North.
The SEAL teams experienced this war like no others. Combat with the Viet Cong was very close and personal. Unlike the conventional warfare methods of firing artillery into a coordinate location, or dropping bombs from thirty thousand feet, the SEALs operated within inches of their targets. SEALs had to kill at short range and respond without hesitation or be killed. Into the late 1960s, the SEALs made great headway with this new style of warfare. Theirs were the most effective anti-guerrilla and guerrilla actions in the war.
SEALs continued to make forays into North Vietnam and Laos, and unofficially into Cambodia, controlled by the Studies and Observations Group. The SEALs from Team 2 started a unique deployment of SEAL team members working alone with South Vietnamese Commandos. In 1967, a SEAL unit named Detachment Bravo (Det Bravo) was formed to operate these mixed US/ARVN units, which were called South Vietnamese Provincial Reconnaissance Units (PRU).
In the beginning of 1968, the North Vietnamese and the Viet Cong orchestrated a major offensive against South Vietnam. Virtually every major city felt the effects of the "Tet Offensive." The North hoped it would prove to be America's Dien Bien Phu. They wanted to break the American public's desire to continue the war. As propaganda the Tet Offensive was successful: America was weary of a war that could not be won, for principles no one was sure of. However, North Vietnam suffered tremendous casualties, and from a purely military standpoint the Tet Offensive was a major disaster to the Communists.
By 1970, the US decided to remove itself from the conflict. President Richard Nixon initiated a Plan of Vietnamization, which would return the responsibility of defense back to the South Vietnamese. Conventional forces were being withdrawn, however, operations of the SEALs continued. The SEALS had developed a new base at the tip of the Ca Mau Peninsula and created a floating firebase, now known as Seafloat, by welding together fourteen barges. Accessible from sea, it also provided a landing area for helos.
On 6 June 1972, Lt. Melvin S. Dry was killed when entering the water after jumping from a helicopter at least 35-feet above the surface. Part of an aborted SDV operation to retrieve Prisoners of War, Lt. Dry was the last Navy SEAL killed in the Vietnam conflict. [1]
Training
Pipeline
Entering training to become a Navy SEAL is voluntary. Anyone can volunteer, and officers and enlisted men train side by side. In order to enter SEAL training, however, one does have to meet certain requirements. Those wishing to volunteer for SEAL training have to:
be an active-duty male member of the United States Navy
be 28 or younger (although waivers for 29- and 30-year-olds are possible)
possess uncorrected vision no worse than 20/200 in both eyes correctable to 20/20 through contacts or glasses (corrective surgery PRK is also possible)
be a U.S. citizen
pass the

Armed Services Vocational Aptitude Battery

(ASVAB) test
SEAL Training consists of the following:
3 weeks Indoctrination Course
24 weeks Basic Underwater Demolition/SEAL (BUD/S) training at the Naval Special Warfare Center in Coronado, California near San Diego.
1 week of static line jump training, followed by 3 weeks of Military Free Fall (MFF) Qualification training at Tactical Air Operations in Otay, CA.
At Coronado, CA and Kodiak, AK, 19-week SEAL Qualification Training (SQT).
After this, the trainee is officially named a SEAL.[2]
Screening
Assignment to BUD/S is conditional on passing the PST, which requires the following minima:
500-yard (457 m) swim using breast or side stroke in under 12:30
At least 42 push-ups in 2 minutes
At least 50 sit-ups in 2 minutes
At least 6 pull-ups from a dead hang (no time limit)
Run 1.5 miles (2.4 km) in boots and trousers 11:30
Members' vision must be no worse than 20/200 in both eyes. Vision must be correctable to 20/20. SEAL candidates may qualify for PRK surgery to correct their vision
Again, the above are the minimum requirements necessary to qualify for BUD/S. Prospective trainees are expected to far exceed these minimums. Competitive scores are as follows:
500-yard swim using breast or combat side stroke in 10:00 minutes
79 push-ups in 2 minutes
79 sit-ups in 2 minutes
11 pull-ups from a dead hang (no time limit)
Run 1.5 miles in boots and long pants in 10:20
Basic Underwater Demolitions/SEAL (BUD/S)
Upon arrival at Naval Special Warfare Command, check-ins for BUD/S are immediately placed into a pre-indoctrination phase of training known as 'PTRR', or Physical Training Rest and Recuperation. PTRR is also where all of the 'roll-backs' are placed while waiting to be put into a class. Once additional medical screening is given, and after enough BUD/S candidates arrive for the same class, organized physical training begins.
BUD/S consists of a three-week 'Indoctrination Course', known as INDOC, followed by three phases, covering physical conditioning (seven weeks), diving (eight weeks), and land warfare (nine weeks) respectively. Officer and enlisted personnel go through the same training program, and it is designed to develop and test their stamina, leadership and ability to work as a team.
In the first phase BUD/S students are divided into 'Boat Crews' which can consist of six to eight men. However, although some exercises will be undertaken as boat crews (such as 'log PT', which requires boats crews to exercise with logs that weigh 150 pounds (68 kg) each, and 'Surf Passage', where boat crews must navigate the Pacific surf in inflatable boats), the first phase of BUD/S also consists of a series of demanding individual physical tests including frequent sets of push-ups and sit-ups, ocean swims and timed four mile (6.4 km) runs in boots and long trousers, in soft sand (to be completed in 32 minutes). The first phase is most well known for 'Hell Week', 132 hours of continuous physical activity, which usually occurs during week four. A student may at any time drop on request (DOR) from the course. The tradition of DOR consists of dropping one's helmet liner next to a pole with a brass ship's bell attached to it, and ringing the bell three times (the bell was taken away for a few years in the 1990s, then later brought back). Classes typically lose around 70–80% of their trainees — either due to DORs or injuries sustained during training, but it is not always easy to predict which of the trainees will DOR during BUD/S. Winter class dropout rates are usually higher due to the cold. SEAL instructors say that in every class, approximately 10 percent of the students simply do not have the physical ability to complete the training. Another 10–15 percent will definitely make it through unless they sustain a serious physical injury. The other 75–80 percent is 'up for grabs' depending on their motivation. There has been at least one BUD/S class where no one has completed the program. Most trainees are eliminated prior to completion of Hell Week, but trainees will continue to DOR in the second phase or be forced to leave because of injuries, or failing either the diving tests or the timed runs and swims. In fact, the instructors tell the students at the very start of BUD/S that the vast majority of them will not successfully complete the course and that they are free at any time to drop out (via the bell) if they do not believe they can complete the course. A trainee who DOR's from First Phase before the completion of Hell Week and reapplies to the BUD/S program must start from the beginning of INDOC (if they are accepted). Any BUD/S trainee who drops on request after Hell Week goes through the same out-processing as a trainee who quits before or during Hell Week. If they reapply to BUD/S they would stand a very good chance of being accepted, but they must complete Hell Week again. However, those who have completed Hell Week, but cannot continue training due to injury are usually rolled back into the next BUD/S class after Hell Week, or the respective phase in which they were rolled. There are many SEALs who have attempted BUD/S two or even perhaps three or more times before successfully completing training. There is only one person who has successfully completed Hell Week three times. He completed training after his third application to BUD/S.
SEAL Qualification Training (SQT)
After BUD/S graduates attend SEAL Qualification Training (SQT) which is the NEC 5326 awarding schoolhouse of NSW. SQT is an arduous 6-month program consisting of the basic skillsets required to join a SEAL Team. The BUD/S graduates attend a sequential course consisting of: TACAIR (static line and Freefall), SERE, Tactical Medicine, Communications, Cold Weather/Mountaineering, Maritime Operations, Combat Swimmer, Land Warfare (small unit tactics, light and heavy weapons, demolitions), and Close Quarters Combat.
Upon completion of SQT the students are awarded the Navy SEAL Trident, assigned to a SEAL Team and are deployable.
Sustainment
Upon assignment to a SEAL Team, the new SEALs will be assigned the basic combat team a SEAL platoon. Once in a Platoon, the Operator will train for an 18-month period (work-up) before a six month active deployment which is followed by six month 'stand down' period.
Phase One of a work-up is called the Professional Development Phase (PRODEV). PRODEV is a 6-month block where individual operators attend a number of schools and courses. These schools lead to required qualifications and designations that collectively allow the platoon to perform as an operational combat team. Depending on the Team's and platoon's needs, operators can expect to acquire some of the following skills:
Sniper
Breaching
Surreptitious Entry
Electronic and Media Exploitation
Technical Surveillance
High Threat Protective Security (PSD)
Advanced Weapons Training
Advanced Driving Skills (Urban/Rural/Security)
Advanced Climbing/Rope Skills
Advanced Air Operations: HALO/HAHO/Jumpmaster/Parachute Rigger and Packer
Diving Supervisor
Range Safety Officer
Instructor School
Leadership School
Foreign Weapons
UAV Operator
Language School
Advanced Special Operations
Phase Two of a work-up is called Unit Level Training (ULT). ULT is a 6-month block where the platoons train in their core mission areas (Land Warfare, Close Quarters Combat, Urban Warfare, Maritime Interdiction, Combat Swimmer, Long Range Interdiction, Air Operations, Special Reconnaissance and Maritime Operations, Advanced Marksmanship/Heavy Weapons).
Phase Three of a work-up is called Squadron Integration Training (SIT). SIT is the last 6-month block where six platoons conduct advanced training with the supporting attachments of a SEAL Squadron, Special Boat Squadrons, Medical Teams, EOD, Interpreters, Intelligence/HUMINT Teams, Cryptological Support Teams, etc). A final Certification Exercise is conducted with the entire SEAL Team to synchronize platoon operations under the Task Group umbrella. Following CERTEX, a SEAL Team becomes a SEAL Squadron and deploys for 6 months.